Family Owned Macarthur Turf Farm
Trading as Macarthur Turf Farm, we're a family owned and operated company. Now into our third generation working on our turf farm in South West Sydney, we know the Greater Sydney environs. We supply the best lawns for this locality. And, just as important, we know what variety of grass will thrive in your area.
Turf is our livelihood and we go to great lengths to produce and supply only top quality grass rolls. After all, superior lawns, properly installed, will give you immediate enjoyment and ongoing satisfaction.
Because grass is a living thing best kept in peak condition, we are only too happy to pass on our knowledge to you. We want your lawn to last a lifetime as much as you do.
The pains we go to are worth the effort. Knowing that people, just like you, will be enjoying treasured life times on lawns from our farm, makes our livelihood worthwhile.
Based in Elderslie (near Camden), Macarthur Turf supplies South west Sydney, the Illawarra, Southern Highlands and Blue Mountains.
Only that our customers pre-order their turf by contacting Lee on 0411 406 099 at Macarthur Turf Farm.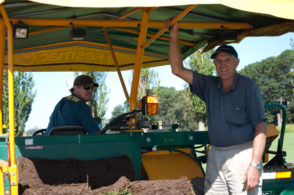 Turf related, agricultural advice
Pre-fertilised turf
Use of a forklift on request
Pick up or delivery on request
Lee and Brad will do their very best for you, working within your time limits and financial constraints.